Samantha Nicole Charles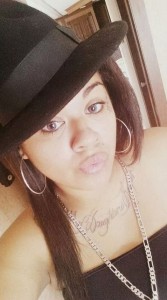 Samantha Nicole Charles of Runge, TX was born October 12, 1994 in Victoria, TX to Ricky and Maria Reyna Charles.  She was a member of Heavenly Gates FWC and a waitress at Tacqueria Jalisco #5. 
She is survived by her Parents Ricky and Maria Charles, daughter, Kendall Hernandez; son Anthony "Lucky" Hernandez;  sister Joselyn Decker; brothers Daniel Decker and Elijah Robert Charles all of Runge, TX.   She is also survived by  a host of family and friends and she will be greatly missed.
A Prayer Service will be held Friday, October 10, 2014 at 7 PM in the Eckols Funeral Home Chapel.  Services will be  Saturday, October 11, 2014 at 10 AM at Heavenly Gates FWC in Runge, TX with the Rev. Robert L. Charles officiating.  Interment will follow in the Runge Cemetery.