Polly E. Porter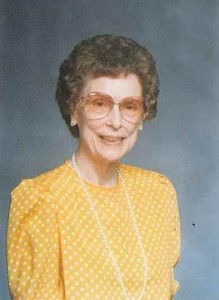 Polly E. Porter was born on October 6, 1919 in Quitman, Texas.  She was the only daughter of C.O. and Mabel Goldsmith.  Polly was a faithful follower of Jesus Christ, a beloved and active community member, and a Loving Mother of three children.
Polly went to be with her Lord and Savior Jesus Christ on October 5, 2014.  She is survived by her children, William Donald Porter and wife Elaine, Sherry Lynn White, and Suzanne Porter Brown and husband Edward; by her grandchildren Elisabeth Porter Golden and husband Geoffrey, Paul Douglas Brown and Carolyn Suzanne Brown.
A Visitation will be held Tuesday, October , 2014 from 7 PM to 8 PM in the Eckols Funeral Home Chapel.  Services will be Wednesday, October 8, 2014 @ 11:00 AM at the First Baptist Church in Kenedy, TX with the Rev. Homer Hanna Officiating.  Interment will follow in the Kenedy Cemetery.