John Henry Davidson, Jr.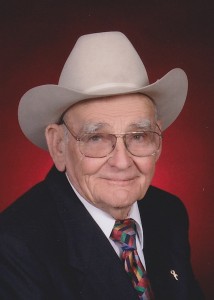 John Henry Davidson, Jr., was born August 20, 1923, in Mendoza, Caldwell County, Texas to John Henry Davidson and Mattie Gertrude Scott Davidson.  His father was a cotton farmer and worked at a hardware store making buggies.  The Davidsons moved to Coy City in 1924 to be near his mother's family.  They purchased their own farm and they, with the help of their children, paid for it during the depression.  John graduated from Karnes City High School in 1942, during World War II and joined the Army Air Force in November 1942 serving for over three years being discharged in February 1945.  He served in several places, all in the US, as an Air Force mechanic.  He met Norene "Peaches" Hunt in the fall of 1944, and they were married July 15, 1945, in Choate, Karnes County, Texas, where she was raised.  He was a farmer and rancher for more than 50 years and was farm manager for Beasley Estate Farms for 15 years.  He served as trustee of the Pawnee Independent School District, a member of the Pawnee Lions Club, and on the Bee County Appraisal District board.  He resided in Pawnee from 1945-1965, in Beeville from 1965-1980, and back to Pawnee from 1980 until his death.  He was a member of the Pawnee Baptist Church for many years and later a member of the First Methodist Church of Pawnee.  John is predeceased by his parents Henry and Mattie Davidson, a sister Laura Elizabeth Hemme, a daughter Marsha Davidson Holt, and his beloved wife Peaches.  He is survived by two brothers, Scott Davidson of Coy City and Dee Davidson of Floresville, his daughter Laura "Penny" Davidson Craig (Dr. William H. Craig), a grandson John William Craig, three great grandchildren (Iain, Matthew, and Jonica Craig), and many nephews, nieces, cousins, and friends whom he loved.
Family Visitation will be Sunday, October 19, 2014 from 5PM to 8PM in the Eckols Funeral Home Chapel.  Services will be held Monday, October 20, 2014 in the Eckols Funeral Home Chapel with the Rev. Gerald Harvey officiating.  Interment will follow in the Pawnee Cemetery.
Serving as pallbearers are Bill Welkner, Elton Lieke, Tommy LaCour, David Hemme, Scottie Davidson, and Ricky Davidson.
Memorials may be made to the Pawnee Cemetery Association.