Sara Carta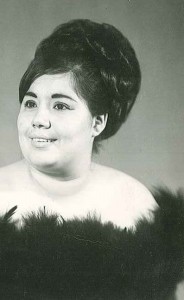 Sara Carta age 70, of Kenedy, TX passed away on July 14, 2014 in Karnes City, TX.  She was born on March 24, 1944 in Davidson, Oklahoma to the late Lucio and Maria Garza.  She was a retired cook for the Lubbock State School and of the Catholic faith.
She is preceded in death by her parents Lucio and Maria Garza.
She is survived by her daughters Candy Bustamante of Waco, TX; Lulah Rios of Lubbock, TX; Molly Pena of Karnes City, T; sons Jimmy Don Garza and Eddie Pena both of Missouri, companion Danny Acebedo of Kenedy, TX and 10 grandchildren and 12 great-grandchildren.
Visitation began Wednesday, July 16, 2014 after 12 noon and continued up until the funeral service.  Funeral Services were held Wednesday, July 16, 2014 at 7:00 PM in the Eckols Funeral Home Chapel with the Chaplain Lydia Luna officiating.