Oneta L. Van Winkle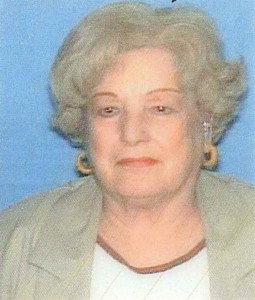 Oneta L. Van Winkle, a longtime resident of San Antonio, Texas, passed away, Friday, February 14, 2014 at 5:16 A.M., in the Connally Memorial Hospital in Floresville, Texas at the age of 90 years, 11 months and 19 days.
Oneta was born, February 26, 1923 in Coy City, Texas, the daughter of Crocket Bynum Ferrell and Minnie O. Brister Ferrell. On December 12, 1941, Oneta married Jesse Van Winkle in Harlingen, Texas. Jesse preceded her in death on April 10, 2010.
Oneta is survived by her sons, Jimmy L. Van Winkle and wife Bonnie of Floresville, and Jack Van Winkle and wife Vickie of San Antonio; her daughter-in-law, Margaret Van Winkle of San Antonio; her sister, Fay Ollie Wessels; her 7 grandchildren, Jimmy Van Winkle and wife Teresa, Darla Van Winkle, Shane Van Winkle and wife Brandy, Dillon Van Winkle, Jack Van Winkle, Jr., and wife Jeannette, Jenica McGann and husband Nathan, and Andrew Van Winkle, and her 10 great-grandchildren, Jimmy, III, Justin, Nicole, Gus, Tate, Emory, Jack, III, Jonathan Van Winkle and Ella and Bennett McGann. Ms. Van Winkle is preceded in death by her parents; her son, Lowell D. Van Winkle; her sister, Melba and her brothers, Ben, and John Ferrell.
Visitation will be held Sunday, February 16, 2014 from 6:00 P.M. – 8:00 P.M., in the Eckols Funeral Home Chapel, Kenedy, Texas. Funeral services will begin at 1:00 P.M., Monday, February 17, 2014 in the Eckols Chapel with Rev. Kyle Key officiating. Interment will follow in the Karnes City Cemetery, Karnes City, Texas.