Lupe V. Davila, Jr.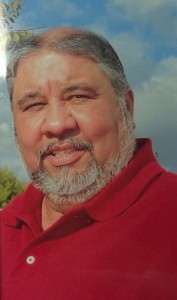 Lupe V. Davila, Jr., a lifelong resident of Kenedy, Texas, entered eternal rest, Friday, January 31, 2014 at 1:36 P.M., in the Otto Kaiser Memorial Hospital in Kenedy, Texas at the age of 63 years, 9 months and 10 days.
Lupe was born and raised in Kenedy, Texas, April 21, 1950, the son of Lupe Davila and Evarista Villarreal Davila. He attended Kenedy Schools and in 1970 began working for Stimson's Furniture in Kenedy, Texas. On January 8, 1970, Lupe married the love of his life, Adela Moreno in Kenedy. He and Adela worked side by side; not only in life but at work. While Adela worked the store front, Lupe handled the service and delivery. It was here where Lupe was able to do what he loved most and truly get to know and interact with the many different customers.  Lupe retired from Stimson Furniture in 2010.
Lupe was also a retired member of the Kenedy Volunteer Fire Department where he remained active for 27 years. He was an active member of the St. Cornelius Knights of Columbus Council #6782 in Karnes City and was a practicing member of Our Lady Queen of Peace Catholic Church in Kenedy, Texas.
Mr. Davila was truly a "people person" and never met a stranger. He was always ready to meet you with a smile and always left an impression behind. He had a love for fishing as well as a hobby of building miscellaneous wood works around the house and especially birdhouses; but Lupe's true love was in his family and his grandchildren. He could spend countless hours with his grandchildren and looked forward to spending the summer months with them the most.
Lupe is survived by his loving wife of over 44 years, Adela Davila; his son, Michael Davila and wife Selina of Spring; his daughter, Monica Davila and partner Grace of Alice; his sisters, Janie Kotzur of Kenedy, Lenora Moreno of Rosenberg and, Oralia Jacques of Rosenberg; and his brother, Eddie Davila of Houston. Lupe is also survived by his 5 beautiful grandchildren, Christopher, Nicholas, Daniella, Ciera and Matthew; his numerous nieces and nephews and a host of many friends.
Visitation will be held, Sunday, February 2, 2014, in the Eckols Funeral Home Chapel, and a rosary will be recited, Sunday at 7:00 P.M., in the chapel. Funeral mass will be celebrated, 10:00 A.M., Monday, February 3, 2014, at Our Lady Queen Of Peace Catholic Church, Kenedy, Texas with Rev. Norbert Herman officiating.  Interment will follow in the Kenedy Cemetery, Kenedy, Texas.