Frances Zertuche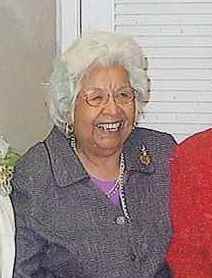 Frances Zertuche, surrounded by her loving family, passed away, Wednesday, November 13, 2013 at 6:38 P.M., at Hunters Pond Rehab and Healthcare Center in San Antonio, Texas at the age of 86 years, 5 months and 14 days. A current resident of San Antonio; Frances was born and raised in Kenedy, Texas, May 30, 1927 to German Carvajal and Jesusa Morales Carvajal.
Frances married Don Zertuche in November of 1967 in Kenedy, Texas. She was a devoted wife and loving mother and actively participated in the Inglesia Bautista Church in San Antonio, Texas.
Frances is survived by her beloved husband of 46 years, Don Zertuche of San Antonio; her sisters, Victoria Zambrano and Aurelia Wier and husband Roy, both of San Antonio; her brother, Abelio Carvajal of Garden City, Kansas and her numerous nieces and nephews. Mrs. Zertuche is preceded in death by her parents; her sisters, Eliza Saenz and Elodia Loya and her brothers, Cirprano Carvajal and German Carvajal, Jr.
The family will receive friends and relatives after 5:00 P.M., Sunday November 17, 2013, in the Eckols Funeral Home Chapel, Kenedy and a prayer service will be held at 7:00 P.M., on Sunday in the chapel. Funeral services will begin at 11:00 A.M., Monday, November 18, 2013 in the funeral home chapel with Rev. Abel P. Escamilla officiating. Interment will follow in the Loma Alta Cemetery, Kenedy with Patrick Luker, David Zambrano, Cirprano Carvajal, Jr., David Carvajal, Jimmy Loya, Jr., and Justin Saenz serving as pallbearers.