Elaine DeLeon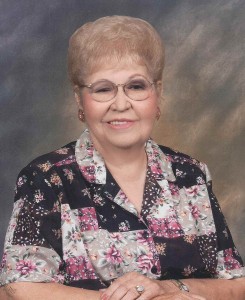 Elaine DeLeon, a resident of George West and formally of Pawnee, Texas, passed away surrounded by her family in the Live Oak Nursing Center in George West, Texas, Tuesday, November 5, 2013, at the age of 85 years, 1 month and 19 days.
Elaine was born in Coy City, Texas, September 17, 1928 the daughter of Serapio DeLaGarza and Petra Casarez DeLaGarza. On May 6, 1945, Elaine married Henry DeLeon; together the two of them started a life together and decided to raise a family. From this came 6 children. Elaine and Henry opened DeLeon Café and Grocery Store in Pawnee, Texas; together with their children, Elaine and Henry operated and ran the café. After exactly 55 years of marriage, Henry preceded Elaine in death, May 6, 2000.
Elaine is survived by her children, Betty Aguirre and husband Ronnie of George West, Jimmy DeLeon and wife Margaret of Pawnee, Duffy DeLeon and wife Annie of Pawnee, Bobby DeLeon and wife Mary of Pawnee, Rickey DeLeon and wife Kay of Kenedy and Albert DeLeon and wife Blanca of George West; her sisters, Emma Alaniz of Kenedy and Minnie Friesenhahn of Aransas Pass, Texas and her sister-in-law, Juanita DeLaGarza of Coy City. Elaine is also survived by her 13 grandchildren and 15 great-grandchildren. Ms. DeLeon is preceded in death by her parents; her sister, Eva Salas; her brothers, Pete DeLaGarza, Israel DeLaGarza and Adam DeLaGarza and her grandson, Joe Henry DeLeon.
Visitation will be held, Thursday, November 7, 2013 in the Eckols Funeral Home Chapel, Kenedy, Texas with a rosary to be recited, Thursday at 7:00 P.M., in the chapel. Funeral mass will be celebrated at 10:00 A.M., Friday, November 8, 2013 at Our Lady of Guadalupe Catholic Church, Pawnee, Texas with Rev. George Johnson and Rev. Ryzard Zielinski officiating. Interment will follow at De Ntra Sra De Guadalupe Cemetery, Pawnee, Texas. Serving as pallbearers will be, Jimmy, Duffy, Bobby, Rickey and Albert DeLeon and Ronnie Aguirre. Honorary pallbearers will be, Carl Lindquist, Pete Salas, Jr., and all of Elaine's grandchildren.