Maona Scott Mixon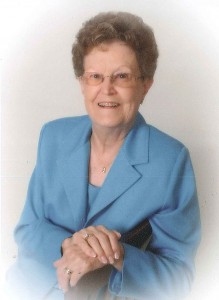 Maona Scott Mixon was born on July 18, 1936 to Herbert H. and Audrey Burton in San Jon, New Mexico; she entered into eternal rest on June 30, 2013 in San Antonio, Texas.
Maona was a resident of Karnes City, Texas for over 45 years and most recently resided in Jourdanton, Texas.  She worked for Lovaca Gathering Company and Valero Transmission Company retiring after 21 years of service.  She is predeceased by her parents, her brother, H.H. Burton, her first husband and father of her
daughters, John E. Scott, Jr. and her second husband Charles E. White.   Survivors are her husband Cecil Mixon of Karnes City and daughters:  Jim Elyce Janssen and husband, Glenn of Corsicana; Lajuana Kasprzyk and husband, Clem of Kenedy; Kala Dumont and husband, Tab of Pleasanton.  Her grandchildren include Beau Janssen and wife, Chrystal of Corsicana; Shanna Wadsworth and husband, Josh of Pleasanton; Nicholas Janssen and wife, Miranda Janssen of Corsicana; Kierstyn and Torey Dumont of Pleasanton; Clinton Kasprzyk and wife, Sarah of San Antonio; Carey Baros and husband, Travis of San Antonio; Clayton Kasprzyk and wife Katy of Stockdale.  Additional survivors are her great-grandchildren Logan and Grayson Janssen, Will, Gus and Hudson Wadsworth, Lucas and Ariana Janssen and Cade Baros, and a niece and nephews.
Visitation is scheduled for Tuesday, July 2, 2013 from 6pm to 8pm with the funeral service planned for Wednesday, July 3, 2013 at 2:00 p.m.  All services will be held at Eckols Funeral Home in Kenedy, Texas. Burial will be at the Kenedy Cemetery.  Donations in memory of Maona Scott Mixon may be made to the Kenedy Cemetery Association, the American Heart Association or the donor's choice.