Virginia "Ginger" C. Johnson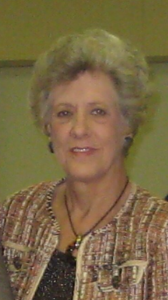 Virginia "Ginger" C. Johnson, a longtime resident of Kenedy, Texas, passed away, Wednesday, May 22, 2013, in the Otto Kaiser Memorial Hospital at the age of 71.
Ginger was born in Seguin, Texas on August 12, 1941. She is preceded in death by her parents, Norman F.E. Schmidt and Willie Mae Vornsand Schmidt and her brother, Wayne Carby. She attended Yoakum High school, Class of 1960. After graduation Ginger attended Baldwin Business School and began working at the District Office of the Highway Department in Yoakum. On July 17, 1965, Ginger married Ervin Johnson at Holy Cross Lutheran Church in Yoakum, Texas. That same year, Ervin and Ginger moved and began their lives in Kenedy, Texas.
Ginger loved life and was passionate about so many things. Over the years, Ginger spent many hours working with her church at Good Shepherd and civic organizations like the Jaycee's-Ette Club, the Kenedy Gaur and Bluebonnet Days Festival, The Kenedy Chamber of Commerce and the Kenedy Main Street Beautification Program. Ginger was also involved in the Karnes County Livestock Show, the Kenedy Progressive Study Club and many activities supporting Kenedy I.S.D. Outside of her civic and church functions, Ginger had an array of other interests including landscaping and keeping a beautiful yard, cooking and baking delicious things, decorating and planning events for anything and everything and an animal lover at heart with an endless love for her family and friends.
Ginger is survived by her beloved husband of over 47 years, Ervin Johnson of Kenedy; her daughter, Shelly Lynn Johnson of San Antonio; her son, Van Clinton Johnson of Kenedy; her sisters, Janice Stanford, Sharon (Glenn) Laqua, Linda Schmidt, Sandra Schmidt and her brother, Norman Ray (Brenda) Schmidt.
Visitation was held, Sunday, May 26, 2013, from 5:00 – 7:00 P.M., in the Eckols Funeral Home Chapel, Kenedy, Texas. Funeral services were held at 10:00 A.M., Monday, May 27, 2013 at the Good Shepherd Lutheran Church, Kenedy, Texas with Rev. Wally Schievelbein officiating. Interment followed in the Kenedy Cemetery. Serving as pallbearers were, Erwin Carby, Aubrey Laqua, Jeremy Schmidt, Jarod Wenske, Chris Stanford, Greg Stanford, Eric Johnson, Errol Johnson, Kevin Samsel, Jason Samsel and Ross Brooks. Serving as honorary pallbearers were all the men and women Ginger so passionately worked with over the years in church and civic organizations. The family wishes to thank all the nurses, doctors and hospitals that cared for Ginger.
Memorials may be made to the Good Shepherd Lutheran Church; P.O. Box 32, Kenedy, Texas 78119, The American Cancer Society; 125 Bluebonnet Drive, Kenedy, Texas 78119 or the Kenedy Main Street Beautification Program; 205 S. 2nd Street, Kenedy, Texas 78119.