Donald "Don" W. Wallace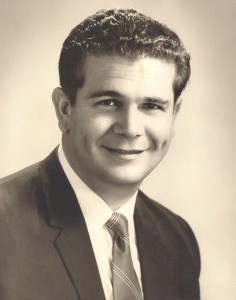 Donald "Don" William Wallace, of Kenedy, Texas, died, Saturday, March 16, 2013, in Kenedy, Texas, at the age of 74 years, 10 months and 26 days.
Don was born, April 18, 1938, in Los Angeles, California, the only child of William F. Wallace and Evelyn Lee Schott Wallace. As a child, Don grew up in South America and attended numerous boarding schools around the United States. He graduated high school and attended Ole' Miss University where he obtained an engineering degree in mining. After graduating college, Don joined the United States Navy; there he spent four years and worked as a navigator. After a very rewarding career in the US Navy, Don began to put his college degree to use and started work as an International Oil Consultant. On January 28, 1960, Don married Lynne Higinbotham in Memphis, Tennessee.
Don and Lynne traveled the world together and spent countless hours on planes and in distant lands. Don's job took him too many different places, sometimes Lynne went along for the ride and others she stayed home. Don worked in places such as, Mexico, China, Argentina, California, Brazil, Scotland, Florida, Venezuela, and Peru.  The two of them shared a love like no other. They enjoyed their many visits to different countries, but always knew that Texas was home. When he wasn't working, one of Don's biggest joys came from spoiling his grandchildren and simply petting his dogs.
In 2001 Don was diagnosed with Stage 4 Kidney Cancer, the doctors gave him two months to live; Don did not accept this death sentence and together with the love and support of his beautiful wife, Lynne they fought the fight and proved that miracles really do happen. Over the next few years, Don would have fought the cancer on and off; it came back two more times and two more times again Don fought and won with Lynne by his side every step of the way. Lynne preceded Don in death just shy of two months prior to his death, January 20, 2013.
Don is survived by his daughter, Dixie Remy and husband Jackie of Tulsa, Oklahoma; his son, William "Bill" Wallace and wife Tanya of Muldoon, Texas; his grandchildren whom he cherished very much, Michelle Orsak, Rachel Collier and husband Robert, Olivia Poole, Crystal Remy, Lana Hart and husband Cody and Amy and Elizabeth Wallace. He is also survived by his great-grandchildren Sommer Skye, Titus and June Marie; his brother-in-law, Ret. Ltc. Col. Lewis Higinbotham and wife Fran of Missoula, Montana; his niece and nephews and a host of many special friends he and Lynne made along their journey. Mr. Wallace is preceded in death by her parents, William F. and Evelyn Lee Wallace.                                                                                                                                  
A memorial service was held, Wednesday, March 20, 2013, at 2:00 P.M., in the Eckols Funeral home Chapel with Rev. Sue Huntsman officiating.
The Wallace Family suggests memorial contributions be sent to, CTRC Health Science Center-San Antonio, 7979 Wurzbach Road, San Antonio, Texas 78229.