Betty Ann Gustafson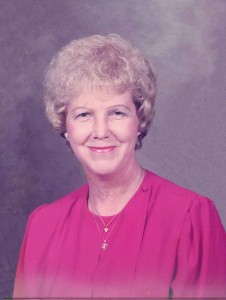 Betty Ann Gustafson, 71, of Kenedy, Texas, peacefully passed onto her eternal reward, February 24, 2013. She was born, October 1, 1941; the youngest child of Fred Andrews and Emelie Tieman of Karnes City, Texas. She was a member of First Baptist Church until she was baptized and became a member of Good Shepherd Lutheran Church in Kenedy. Betty and Louis C. Gustafson were married in Green, Texas on March 11, 1961.
Betty is survived by her husband Louis; two sons, Johnny and wife Lezli Gustafson of Stockdale and Tommy and wife Georgia Ruth Gustafson of Louise; one daughter, Kathy Stewart and husband David of Kenedy; six grandchildren, Jason Ethridge and Lori de la Rosa and Jena Frnka and husband Kyle, Valerie Harvey and husband Tom, Jeffrey Stewart and wife Elizabeth and Katie and Allie Lewis; twelve great grandchildren, including newborn Aubrey Elaine Frnka, and sister, Bernice Custer of Karnes City. She is preceded in death by her parents; her sister Mary Wood and her brothers, Charlie and Ben Andrews.
Visitation was held, Tuesday, February 26, 2013, from 5:00 – 7:00 P.M., in the Eckols Funeral Home Chapel, Kenedy, Texas. Funeral services were held at 2:00 P.M., Wednesday, February 27, 2013, in the Eckols Chapel officiated by Rev. Vernon Andrews and Rev. Wally Schievelbein.  Interment followed in the Karnes City Cemetery, Karnes City, Texas.
Betty's family wishes to extend their gratitude to our Lord and Savior for her steadfast love and time here on earth; the remarkable staff of Otto Kaiser Memorial Hospital; Nurses in Touch and all her family and friends who offered their love and support during her journey Home. All those who knew Betty were blessed by her faith, strength and love. She was much loved and will be keenly missed.
In lieu of flowers the family requests that memorials be made to Good Shepherd Lutheran Church; P.O. Box 32, Kenedy, Texas 78119.