Joyce Goff Lyons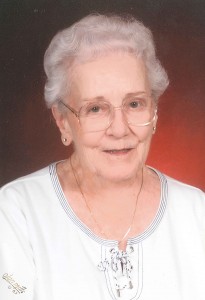 Kathryn Joyce Goff Lyons, passed away, Thursday, August 9, 2012, at 4:10 A.M., in Tyler, Texas, at the age of 83 years, 11 months and 20 days.
Joyce was born, August 20, 1928, in Kenedy, Texas, the daughter of Percy Reidel "Potts" Goff, Jr., and Hattie Martin. Joyce married Albert D. Lyons, Jr., of Runge, Texas, on December 22, 1946, in Kenedy, Texas. Albert preceded Joyce in death on August 22, 2000. Joyce loved the Lord and was a devout Christian; she also shared that love with her family and her friends. Joyce was a World Traveler, a bridge player and she was involved in her community and participated in charity activities. She was a member of the Pink Ladies, the Runge Birthday Club and the Garden Club.
Joyce is survived by her children; Nancy Harvey and husband Robert of Lufkin, Texas and Albert Lyons of Dallas, Texas; her three grandchildren, Robert Nathaniel "Nathan" Harvey and wife Amanda, Matthew Alexander and wife Sharon and Dustin Lyons; her three great-grandchildren, Alexandria Kathryn, Andrew Robert and Connor Nathaniel and her brothers, Robert Goff and Glyn Goff and wife Myra Lee. She is preceded in death by her parents; her husband; her sister, Marilyn Thompson and her brother, Martin Goff.
Visitation was held from 6:00 – 8:00 P.M., Monday, August 13, 2012, in the Eckols Funeral Home Chapel, Kenedy, Texas. Funeral services were held, Tuesday, August 14, 2012, at 10:00 A.M., in the Eckols Funeral Home Chapel with Rev. Martin L. Newmann, officiating. Interment followed in the Kenedy Cemetery. Serving as pallbearers were, Nathan Harvey, Matthew Harvey, Josh Heller, Paul Groos, Donald Allen and Barry Harris. Serving as honorary pallbearers were, Glyn Goff and Bobby Goff.