Edna Anmaline Gustafson Coward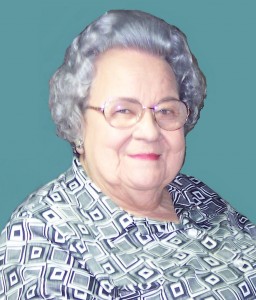 Edna Anmaline Gustafson Coward, a longtime resident of Pleasanton, Texas, passed away on Thursday, April 5, 2012, in Pflugerville, Texas at 2:14 A.M., at the age of 85 years, 8 months and 15 days.
She was born in Kenedy, Texas on July 21, 1925 to Arthur and Lillie Gustafson. She was baptized at the Elim Lutheran Church on September 21, 1925 and confirmed in the very same church on September 24, 1938, by Pastor Gustaf Bergman.
Edna attended school in Cadillac, Texas and graduated from Pawnee High School on May 21, 1942. Shortly after graduating high school, she went to work for Kelly Air Force Base in San Antonio, Texas. She worked as a parts chaser for one short week and then was put into office work and worked until June 26, 1970, when she retired at the age of 45.
She met Bill Coward at Kelly Air Force Base and they were married on August 15, 1943. They were married for 52 ½ years when Bill passed away on February 10, 1996. The two of them retired at the same time; Bill having served 33 years and Edna, 28 years.
After Edna and Bill's retirement, they took a trip to Alaska to visit Bill's brother. Edna and Bill both had pick-up trucks and travel trailers and they made the trip together down the Alcan Highway to Alaska. That trip was an experience that Edna never forgot. They stayed for three months as Bill and his brother, Buster worked on airplanes together. This time allowed Edna to cook and make sure the men where well fed.
When they made it back from their trip to Alaska, Bill and Edna traded in their travel trailer for a 20 foot Winnebago Motor Home. They later joined the Alamo Winnebago Club and the Texas Winnebago Club and traveled and made lots of new friends.   
In 1979, they traded for yet another new Winnebago and got a 29 foot one; they stayed with club until October 1988, when they sold their Winnebago and quit traveling as Bill began to have leg problems.
Edna is survived by her step-daughter, June Brandon and husband Hubert of Corpus Christi, Texas; her nieces, Priscilla Hicks and husband Ray of Austin, Texas and Kathy Grisham and husband Jim of Jarrell, Texas; her step-grandchildren, Scharee McGregor, Ernest Shelton and Dawn Verlander; her 7 step-great-grandchildren, 6 step-great-great-grandchildren; and her 8 great and great-great nieces and nephews. She is preceded in death by her parents; her beloved husband, Bill Coward; and her brother, Vernon Gustafson.
Visitation was held from 2:00 – 5:00 P.M., Friday, April 6, 2012, in the Eckols Funeral Home Chapel. Funeral services were held on Saturday, April 7, 2012 at 11:30 A.M., at Elim Lutheran Church in Kenedy, Texas, officiated by, Dr. Robert K. Blomstedt. Interment followed in the Elim Lutheran Cemetery.
In lieu of flowers the family asks that donations be made to the Elim Lutheran Cemetery.