Mazell Chesser Otto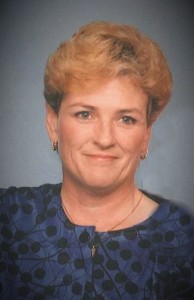 Mazell Chesser Otto, passed away at her home is Choate, Texas, Tuesday, January 24, 2012, at the age of 63 years, 6 months and 3 days. Mazell was born on July 21, 1948, the daughter of Hubbard Smith Chesser and Rovilla Hooper Chesser.
Mazell is preceded in death by her parents and her one sister, Mary Elane Waltersdorff. She is survived by her beloved husband of 17 years, Arthur John Otto of Runge; her daughter, Jacqueline Rovilla Lewis Slayden and husband Randy Baker of Victoria; her sons, Hubbard Chesser Lewis and wife Emily Long of Victoria, Franklin Dwayne Lewis of  Victoria, Marcus Lane Lewis and wife Denise Lopez Lewis of Falls City and Christopher Keith Lewis and wife Linda Lewis of Karnes City; her three step-children, Deanna Hydner, Daren John Otto and Thaddeus Otto; her 2 sisters Linda Marie Hunger and Molly Skoruppa and husband Robert; 4 nieces and 2 nephews.
Mazell was "MeMaw" to her beautiful 9 grandchildren; 7 great-grandchildren as well as 6 step-grandchildren and 4 step-great-grandchildren.
Mazell was a supportive and loving wife, mother, grandmother and sister. She was very proud of her family as they were of her…until they meet again.
Serving as pallbearers were her sons, Hubbard, Frank, Mark and Chris; her nephews Jay Dee Hunger and Marion Martin Skoruppa. Mazell always said her sisters were going to "carry" her; so along with her grandson, Laramie Lewis and daughter Jackie- they served as honorary pallbearers.
Visitation was held from 6:00-8:00 P.M., Thursday, January 2, 2012 in the Eckols Funeral Home Chapel in Kenedy, Texas. Funeral services were held on, Friday, January 27, 2012, beginning at 2:00 P.M., in the Eckols Funeral Home Chapel. Interment followed at Mazell's childhood home at 582 CR 148, Kenedy, Texas.
The family celebrated her life with family and friends at the Community Hall on Highway 239 in Choate, Texas after the interment. Mazell loved a party!!
In lieu of flowers, the family request that donations be made to, Scott and White Hospital; 2401 S. 31st Street, Temple, Texas 76508.